What is the best way to boost online sales for local businesses?
Due to COVID-19 stay-at-home orders, many customers started purchasing online. These clients are now devoted, online buyers. As the world increasingly moves online, businesses must adapt their marketing strategies to remain competitive. Luckily, by employing some basic marketing techniques, you can boost online sales and foster customer loyalty.
To get you started, I picked a few that will be most useful for small businesses in your area.
Understand Your Target Audience to Boost Online Sales
The best way for local businesses to boost online sales is to thoroughly understand your target market. Then choose the best products and marketing strategies for that market. When you own a physical storefront, you can interact with customers and find out what they find appealing. On the other hand, you must be proactive in acquiring data on your clients when they are online.
You can find buying trends and preferences by employing analytics tools in your point-of-sale (POS) system and online store. Even though nothing will ever fully replace a face-to-face conversation, there are still plenty of ways to get to know your customers, such as through email, online chat, and phone calls.
Use Analytics to Learn How Customers Find Your Business
Making effective use of your time and marketing resources is essential. You can more effectively target your marketing efforts by studying how people reach your store using analytics tools like Google Analytics. For instance, if a blog article about healthy eating drives traffic to your cookware business, you should create more content on that topic. Investing in extra advertising might be worthwhile if your sales originate from Facebook ads.
Create Content
When someone has a question, they turn to Google to find the solution. Through SEO, you may encourage customers to discover your eCommerce store by creating content that is both fascinating and pertinent to them. Write about common challenges or effective ways to use your items rather than your products. If you write about entertaining dog games or how to treat dogs with separation anxiety, you might sell dog toys. Write fresh articles regularly since search engines prioritize pages that post consistent content.
Tailor Your Content For Each Stage of the Buying Journey
Making sure your content appears on search results pages at each stage of the purchasing process is the next step to boost online sales.
Focus on producing captivating, entertaining content for awareness that seizes and maintains the interest of your audience. Give ideas and inspiration.
Inform your audience about the issues and difficulties they can overcome with your product. Compare various items further.
Before a sale, start a dialogue with Decision and assist the sales team in closing the deal.
A fantastic method to optimize your strategy is to use one of the many tools available to help your content rank in search engines. Some of them don't cost anything, while others do.
Find out who is writing about what is in your niche and how readers interact with that content by using the tool to search for your keywords.
This will help you figure out what's popular and release your content at the ideal moment for the most significant possible engagement.
Finally, try to highlight your customers in your content wherever you can. The obvious one here is social proof, but there are numerous ways to do this at each stage of the purchasing process:
Share user-generated material on your blog, social media, and other platforms to raise awareness.
Encourage thought via tutorials and review videos that feature devoted customers.
Share customer profiles and case studies on your website or blog.
Don't Forget SEO
Customers can walk up to your kiosk or shop if you have a brick-and-mortar location. With an internet store, you must help customers find you. It would be best to concentrate on improving your search engine rating for keywords that buyers use to find your company. A 2019 Statista analysis revealed that 65% of all eCommerce sessions were initiated by search. With the right plan in place, you can easily set up your website and pages for SEO.
Be Active On Social Media.
You may attract new clients to your store and foster customer loyalty by continuously providing information on social media that is appealing to your target market. 52% of all online brand discovery, according to a study by Hootsuite, still takes place in open social feeds. Share stunning images and videos using your products on Instagram. After all, 92% of Instagram users claim to have followed a brand, visited its website, or purchased a product by seeing it on the app.
Connect with customers through email marketing
Although email marketing may seem archaic, it is an effective way to boost online sales. You can easily share sales, new products, and advice with your consumers using an eCommerce platform that automatically collects email addresses. Additionally, you can increase your email list by providing a blog subscription option or a promotional code. Create an email newsletter if you want to communicate with your consumers frequently.
Use Chatbots For 24×7 Sales Conversions
Due to its ability to quickly and accurately support all sales stages, artificial intelligence has emerged as a powerful ally for sales teams that generate a lot of prospects and leads.
Businesses are investing significantly in chatbots to generate high-intent leads for sales. When engaging prospects or leads, bots can enhance online sales conversion rates by up to 30%.
Book orders: Chatbots quickly process online orders from groceries to gadgets to clothing. "One in five customers would contemplate getting products and services through a chatbot."
Automate sales support: Even when your sales team is unavailable, an AI-enabled bot keeps visitors and customers interested 24 hours a day.
Auto-qualified sales lead: A well-designed chatbot helps to prequalify sales prospects even when your sales agents are busy with the help of a preset questionnaire.
Schedule appointments: Leads are sent to the sales team for immediate conversion, appointment setting, or meeting with the sales executive once qualified.
Create Differentiated Landing Pages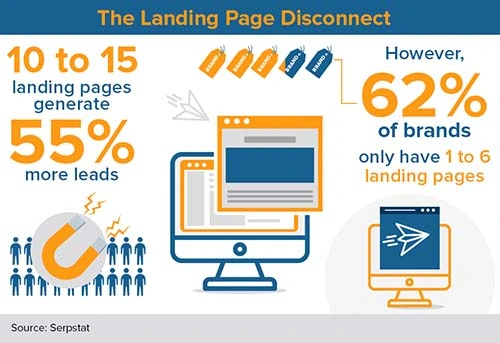 Landing pages are essential for the success of e-commerce. A landing page is the first page a visitor to your website sees after arriving.
To create incredible landing pages, you must first identify a functional framework. Generally speaking, the better a landing page is, the clearer and more straightforward. Create a unique landing page for each of your flagship products, or at the very least, one page for the entire line of related products. You will find it much simpler to assess what is happening and comprehend how to maximize your web marketing if you do it in this manner.
Convey a Sense of Urgency
Have you ever taken part in an auction of any kind?
If so, can you remember how your heart beat quickly as the clock wound down?
Or maybe it was a product you always wanted to buy, and you logged on to the store only to find out that it would be out of stock in the next few minutes, and you did all you could to purchase it?
The online store owners used that ploy to induce a sense of urgency in you, making you feel like you had to add another purchase to their day's sales total.
Do you have any idea how many people with comparable conditions and ordering pressure you could have placed orders from the same retailer?
Overall, because they conveyed a sense of urgency, the store made more money during those hours on these things. You can use this expert technique to boost business or online store sales.
Another fact about people is that they enjoy competition. They were the first people to feel happy and satisfied in their own lives. There is mutual benefit.
When customers complete their orders within the deadline, they naturally feel clever and successful. They'll be on the lookout for your store frequently to ensure they don't miss out if they lose out due to time constraints or more prominent bidders.
I really cannot see any way this strategy will backfire.
This is because it is a situation of which you are in charge as you determine the time the product will be in store, the number of stock, and when the bonus will run out. The new scenario can be recreated, altered, or renewed.
It is time to instill a sense of urgency in your customers about particular items in your store; start with items typically purchased to boost their sales. Incentives aid the creation of such conditions.
For example, offers with time-lapse, limited product editions, exclusive editions, etc.
Use a Personal CTA
Which button—"Book demo now" or "Book your demo now"—would you be more likely to click?
Even if the messages are fundamentally the same, adding a personal pronoun like "you" or "my" gives any CTA an instant sense of relatability and belonging.
Your customers will feel more invested in the process and less like they are being ordered to do something.
Another option is to completely eschew formal CTAs in favor of something more unexpected and informal, such as "Yes, please" or "Take me there":
These persuasive CTAs draw visitors in and give the shopping experience some personality.
Try to resist clicking "Yes, please"—just think about it.
Wrap it up
In conclusion, the best way to boost sales online for local businesses is to make it easy for customers to find your business, offer a great product or service at a fair price, and provide excellent customer service. By following these tips, you can ensure that your local business will succeed online.