Why is Local SEO Important for Small Businesses?
TL;DR
Local SEO is crucial for small businesses to gain visibility and attract potential customers. Optimizing your website with relevant keywords, creating valuable content, and utilizing Google My Business can improve your rankings on search engines. It builds trust, enhances the user experience, and impacts the buying cycle. Keep up with the evolving SEO best practices to stay competitive, and remember that being on the first page of search results is vital, especially with the rise of zero-click results. SEO will continue to be essential to successful online marketing, benefiting businesses of all sizes.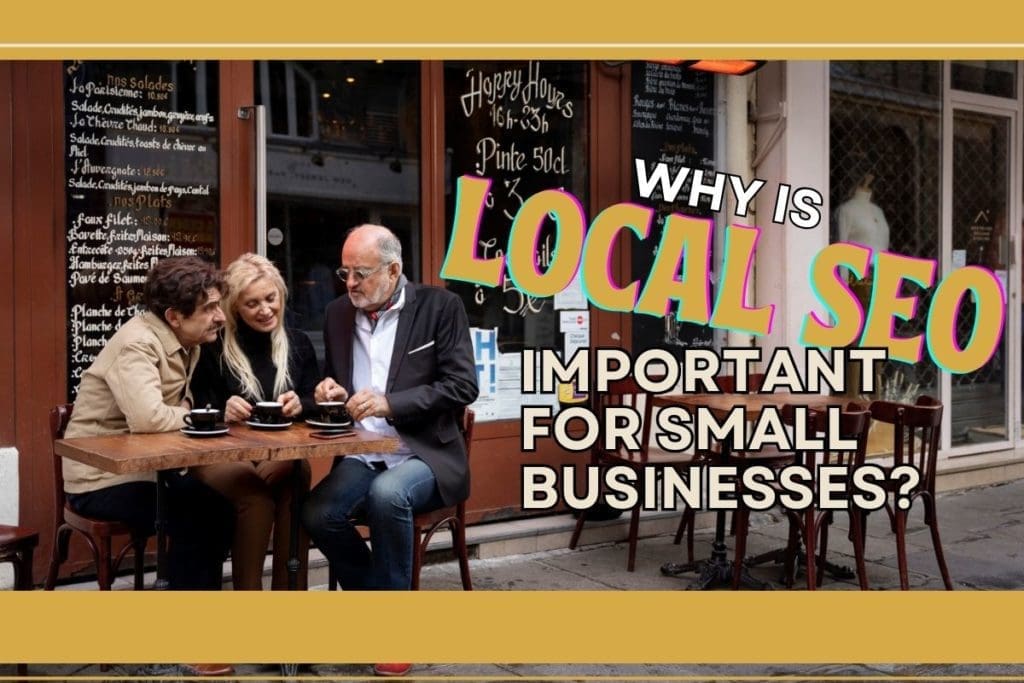 Lost in the digital marketing world? SEO is crucial for local businesses to be discovered and visible. Uncover your business's secret abilities with tactics and plans that make sure your local presence is noticed by the right individuals.
Let's look at why SEO is so important for your local business.
Organic Search is Most Often the Primary Source of Website Traffic
Organic search is key for local businesses to get website traffic. It brings quality visitors, meaning they are interested in what a business has to offer. When users search on Google, Bing, or Yahoo, it's because they want information about their questions. Optimize your site for relevant keywords and create valuable content to show up in the top results.
This visibility attracts potential customers without any extra cost. Plus, organic search builds trust and credibility. When your website appears in the top results frequently, users see it as an authoritative source. That leads to higher conversions and loyalty.
To improve organic rankings, here's what to do:
Do keyword research and optimize your content with relevant ones.
Create informative content that meets the needs of your audience.
Structure your website well with clear navigation and user-friendly design.
Build backlinks from reliable websites.
By following these steps, you can increase your organic search visibility and drive quality traffic to your local business. Remember, SEO is important for the success of your business – it will give long-term benefits.
SEO Builds Trust & Credibility
SEO is a must for local businesses to build trust and credibility. Optimizing their websites for search engines helps them become more visible, which boosts the perception of reliability. Quality content, backlink building, and website optimization all contribute to a great user experience.
When businesses invest in SEO, it shows their commitment to providing valuable information and services. They can become the authority in their niche through keyword research and relevant content. This builds trust among users.
It's important for businesses to improve website usability and speed. This attention to user satisfaction showcases their dedication to delivering amazing service online and offline.
Maintaining a good reputation is also key. Positive reviews are essential for building trust and credibility. 91% of consumers read reviews before making a purchase decision. So effective SEO strategies help businesses attract new customers and keep existing ones.
It's clear that SEO does more than just increase visibility. It's the backbone of establishing trustworthiness. As businesses realize this, investing in effective optimization is critical for long-term success. Get ready for a better user experience – good SEO is like butter on toast – it makes everything better!
Good SEO Also Means a Better User Experience
Optimizing for search engines can make your website more visible and user-friendly. Faster loading times, easy navigation, and helpful content – that's the way to go! Descriptive URLs, structured headings, and optimized images create an ideal browsing experience. Also, a mobile-friendly design will make sure your website is accessible on all devices.
Content is king! Quality content is key for attracting users and keeping them engaged. Informative and engaging articles do just that! This way, you build credibility and trust among users.
Did you know that page speed has an effect on user experience? Slow-loading websites frustrate users and lead to high bounce rates. But, by optimizing images and minifying CSS files, you can speed up your website. This makes for a positive user experience and helps you retain visitors.
You might be surprised to learn that websites were ranked based on keyword density instead of user experience before the days of Google. This led to poor-quality search results. But as technology evolved, the emphasis shifted to user experience and the relevance of search results. Good SEO is essential for achieving higher rankings and providing a great user experience.
Local SEO Means Increased Engagement, Traffic & Conversions
Local SEO is a must for businesses that want to grow. It increases engagement, traffic, and conversions. Optimize your website and online presence for local search queries to attract people who are looking for what you have to offer in your area.
Effective local SEO strategies will help you show up higher on search engine result pages. This means people who are searching for something related to your offerings will find your website and visit it.
Better visibility through local SEO also leads to more engagement. When users find your website, they are likely to explore its pages and spend more time there. This shows search engines your website is valuable and relevant.
The increased traffic from local searches has a higher chance of converting into customers. People who find you through local SEO are often motivated buyers, ready to purchase.
Make sure you optimize not only your website but also other online platforms like Google My Business and online directories. This will help you be even more visible in local searches and engage with potential customers.
Don't miss out on the growth potential of local SEO. Start implementing strategies tailored to attract local customers and make the most of conversions. Stay one step ahead of competitors by utilizing local search and watch your business flourish with engaged and converted customers.
Local SEO Impacts the Buying Cycle
If you're a local business looking to establish a presence in your community, SEO is crucial. It's not just a trendy buzzword – it's a lifeline that can help amplify your digital marketing efforts and propel your store to the top of search engine results pages (SERPs). With a strong SEO strategy, you can ensure that residents in your area find your products or services before they find your competitors.
But local SEO offers more than just visibility. It also adds a layer of credibility to your business, boosting your reputation among locals who see your website at the top of search results. This increased credibility can lead to more interactions and a higher likelihood of turning curious visitors into loyal customers.
Many consumers these days use search engines to gather information before making purchases. If your local business appears at the top of search engine results, it grabs their attention and establishes you as an expert in the neighborhood. SEO is the key to success in the current digital era. Using local-specific keywords in your content lets you connect with your community and surpass your competitors on search engine results pages. The unique benefit of SEO is its lasting impact. Even when you stop paying for ads, SEO continues to work hard to bring in organic traffic and potential customers, ensuring a steady and sustainable return on investment. Consistently ranking high in search results helps your brand become a memorable fixture in the local community, which can lead to collaborations with other local businesses and foster loyalty among customers.
One of the great benefits of localized SEO is its ability to use tools like Google My Business to target customers in your local area. This means you can attract online traffic, increase foot traffic to your physical location, and cultivate genuine community connections.
In short, for local businesses aiming to succeed in the digital world, SEO is not just a tool, but a powerful arsenal that boosts visibility, builds trust, and establishes authority, giving you a sustainable edge over competitors. It's the blueprint for community-focused businesses seeking to win trust, foster connections, and surpass the competition.
SEO is Constantly Improving, and Best Practices are Always Being Updated
For local businesses looking to grow, SEO (Search Engine Optimization) is the cornerstone. The digital landscape for local SEO is fluid, frequently evolving with updated best practices. Businesses must adapt swiftly to these shifts to remain a local favorite and pull in hometown customers.
Search algorithms and local ranking criteria are in constant flux. For a local business to flourish, it's paramount to tailor their SEO strategies to these changes. What might've been the golden standard yesterday may not suffice today. Effective local SEO tactics can elevate a business's position in local search results, driving more foot traffic.
One significant facet of local SEO is hyper-local keyword research. As local search patterns and trends transform, it's essential for businesses to pinpoint and hone in on keywords pertinent to their local sphere and clientele. By doing so, they can refine website content and meta tags, enhancing their local online footprint.
User experience, especially from a local standpoint, is crucial. Search engines reward local sites that promise and deliver seamless experiences. Elements like swift page loading times, mobile compatibility, easy navigation, and relevant content are all pivotal. Addressing these factors can bolster a business's rank and offer hometown users a delightful online journey.
Moreover, local businesses should delve deep into nuances unique to their domain or locality. Some sectors might have local directories or community review platforms vital for their SEO standing. Harnessing these platforms wisely can give businesses a distinct advantage, enabling them to resonate more potently with their local community.
Consider a neighborhood cafe that had minimal online exposure despite a chic website. It turned out they were tethered to obsolete keyword strategies. They saw a surge in online reservations and cafe visits by revamping their keyword approach and introducing other local SEO tweaks.
Local SEO isn't just about digital prominence; it's about forging genuine community connections and staying ahead of the local curve. Navigate the intricate digital labyrinth with precision and ensure your local business doesn't fade into digital obscurity!
Understanding SEO Helps You Understand the Environment of the Web
To navigate the vast online world, it's essential to understand SEO. By mastering SEO, you'll gain insight into website rankings, user behavior, and the impact of keywords. This knowledge will enhance your local business by optimizing your website and content, attracting more visitors, and boosting your online presence.
In today's digital landscape, having a strong grasp of SEO sets you apart from your competitors. By utilizing successful SEO tactics, such as keyword research, on-page optimization, and link building, you can increase your chances of appearing high in search engine results pages (SERPs). This, in turn, leads to more organic traffic to your website, strengthening your online presence.
Furthermore, staying up-to-date with SEO trends is crucial to keep pace with the ever-changing dynamics of the web. Search engines frequently update their algorithms and ranking factors to improve user experience. Keeping abreast of these changes allows you to adjust your SEO strategies accordingly, ensuring your local business remains competitive in the digital space. Whether it's optimizing for mobile devices or voice search, staying current is key to success.
Did you know Google gets 3.5 billion searches a day? A huge number! Source: HubSpot.
By recognizing the importance of SEO for your local business and investing energy into understanding it, you're setting yourself up for extended success in a more and more digital world. So take up SEO as a valuable tool in exploring the online environment effortlessly and ensuring your business succeeds online. Give your business a lift with SEO because it's cheaper than hiring a therapist when no one visits your website.
SEO is Relatively Cheap and Very Cost-Effective
SEO is a must-have for local businesses. It's a relatively cheap and cost-effective way to boost your online presence. By optimizing your website's content and structure, you can draw organic traffic from search engines and reach customers actively seeking goods or services in your area.
SEO is a great long-term investment. With no need for ongoing costs, it can continuously drive organic traffic without blowing your budget. Plus, it allows small businesses to compete with bigger brands on search engine rankings. By optimizing your website for relevant keywords and creating high-quality content, you can increase your chances of appearing in search results. This boost in visibility raises brand awareness and strengthens credibility and trust for potential customers.
Maximize the power of SEO for your local business by highlighting your unique selling propositions. Let people know about exclusive products, exceptional service, or local community involvement. These details in your SEO strategy can help draw more potential customers.
Don't miss out on the benefits of SEO. Investing in it is essential to stay competitive in today's digital landscape. Don't let FOMO stop you – optimize your website now and drive more targeted traffic to your business. The sooner you start, the easier it is to beat competitors who already use the power of SEO. Illuminate your potential customer base with SEO and let your local business shine!
Local SEO Brings New Opportunities to Light
As a local business, optimizing your SEO can significantly impact your success. By tailoring your approach and incorporating local keywords into your site, you can increase your visibility within the community and attract potential customers who are searching for nearby services. A higher search ranking can enhance your credibility and customer loyalty, and utilizing SEO best practices like quality content creation and backlink building can lead to higher user engagement and conversion rates. In fact, research from Forbes shows that local businesses with a strong SEO focus tend to have better conversion rates. For hometown businesses looking to make a digital mark, effective SEO is essential for drawing in crowds, making a lasting impression, and ultimately boosting sales. Don't miss out on this game-changing opportunity!
If You're Not on Page One, You're Not Winning the Click – Especially With Zero-Click Results
In the present digital era, it is crucial for a local business to appear on the first page of search engine results to reach success. Zero-click results – where users get information directly from search engine pages – make having a strong online presence even more important.
Data by Moz shows that the first page of Google captures over 71% of all clicks. If a business isn't ranked highly, they miss out on potential customers searching for their products or services.
Zero-click results are growing in popularity. Jumpshot's analysis of billions of searches found that they accounted for more than half of all searches in 2019.
Here's an example: A small New York City bakery struggled to attract new customers. After they improved their website's ranking, their sales increased drastically. People discovered the bakery through organic search results.
SEO is essential to help local businesses succeed. Optimize your website and content for search engines, and secure a place on page one. That way, you won't miss out on opportunities to grow your business.
SEO is Always Going to Be Here
SEO is a key part of any successful local business strategy. It's essential, as SEO puts your business in front of potential customers who are looking for what you offer. The internet has made SEO ever-important and will keep developing and altering with new trends and tech.
To understand why SEO is here to stay, we must see its main role in online marketing. Search engines are always adapting their algorithms to give users the most useful and valuable data. As people keep using search engines, businesses will need SEO to make sure their sites appear at the top of search results.
Plus, SEO helps local businesses compete with bigger companies. By optimizing your site for local searches, you can focus on specific areas where your customers are. Small businesses can reach their intended audience more efficiently and with less competition.
A clear example of the lasting power of SEO is its history. Since the early days of the internet, SEO has been important, driving organic traffic and helping businesses across various industries become visible. It's changed and improved a lot, adjusting to things like voice search and mobile optimization.
Wrapping it Up
In today's ever-changing digital landscape, local businesses need to prioritize understanding and implementing SEO to establish a strong online presence. This involves recognizing the importance of ranking on the first page of search results, staying up-to-date with SEO trends, taking advantage of its affordability, and optimizing for local visibility. SEO is the key to driving a local business's online success, serving as a reliable compass to navigate the vast online ocean and ensuring that businesses get noticed and stand out. To succeed in this digital age, it's essential to embrace SEO, which is not just a passing trend, but a testament to a business's digital resilience and ambition.
Frequently Asked Questions
Why is SEO important for your local business?
A: SEO (Search Engine Optimization) is crucial for your local business because it helps improve your website's visibility and rankings on search engine results pages. By optimizing your website for relevant keywords and local searches, you can attract more organic traffic, increase brand awareness, and ultimately drive more customers to your business.
How does SEO benefit local businesses?
A: SEO benefits local businesses by targeting potential customers in their specific geographical area. By optimizing your website for local keywords, creating localized content, and having consistent NAP (Name, Address, Phone) information across online directories, local customers are more likely to find and choose your business over competitors.
What role does Google My Business (GMB) play in local SEO?
A: Google My Business is a powerful tool for local SEO. It allows you to create a detailed business profile that appears on Google Maps and Google Search. Having an optimized GMB listing can significantly increase your local search visibility, provide important business information to customers, and enable them to leave reviews – all of which contribute to higher rankings.
How long does it take to see results from local SEO efforts?
A: The time it takes to see results from local SEO efforts can vary depending on various factors, such as the competitiveness of your industry, the quality of your optimizations, and the size of your target market. Generally, it can take a few weeks to a few months to start noticing significant improvements in search engine rankings and organic traffic.
Is local SEO only for small businesses?
A: No, local SEO is beneficial for businesses of all sizes. Whether you're a small local shop or a large enterprise with multiple locations, local SEO can help increase your visibility within your target market. It allows you to stand out from competitors, attract nearby customers, and build a strong online presence within your community.
Can I do local SEO myself, or should I hire a professional?
A: While some basic local SEO strategies can be implemented by business owners, hiring a professional SEO agency or expert can yield better and more consistent results. SEO professionals have the knowledge, experience, and tools necessary to conduct in-depth keyword research, create effective optimization strategies, and stay updated with the ever-changing SEO landscape.