Digital Marketing Trends You Can't Ignore
Digital marketing is constantly changing and evolving, which means that if you're not keeping up with the trends, you're likely losing out on opportunities to grow your business. Here is a short list of digital marketing trends you need to be aware of. By no means is this list exhaustive. There are just too many trends to mention. But, these are the most important.
The trends in digital marketing methods are consistent year after year, with a lot of interest in search, social, and email marketing and new web design and content marketing techniques to engage and convert our consumers. In the past, technological advancements have been the driving force behind digital marketing trends.
Digital Marketing Trends You Can't Ignore
AI-Powered Optimization
Artificial intelligence (AI) is the technology underpinning various services, including content production, chatbots, and search engines. It has grown in popularity since the outbreak of COVID-19.
A PwC survey of over 1,000 U.S.-based businesses found that 52 percent had increased their AI deployment plans. The following are the key benefits:
For content creation, Texta is AI-powered software that is "trained to generate original, creative content." Evidently, top SEO experts taught Jarvis to compose blog posts and website copy.
AI can also evaluate consumer behavior, search trends, and data from social media sites like Instagram. AI can also assess blog posts to help businesses understand how their products and services are discovered.
Google is one such company that has placed AI at the heart of its value proposition. Over the last several years, its use of AI has helped its search engine better understand what customers are looking for. This helps Google know what type of content best meets their search intent.
Google knows what consumers are looking for and what type of content will best meet their needs. When you search for "fish oil," for example, Google recognizes that the most common search purpose is to learn about the health advantages and side effects.
As a result, ranking #1 for this keyword with an e-commerce product page is quite unlikely. If this step is incorrect, your content creation, promotion, and link-building efforts will go for naught.
This means that nailing the search intent is more important than ever, and content optimization is a great approach to accomplish so.
Advertising on YouTube Will Explode
"YouTube is going to explode in terms of investment from advertising in 2022. I feel like it's a sleeping giant, but I think that the move away from linear TV, fragmentation with subscriptions, and streaming services all means that more advertising spend is going to move to YouTube," says the Managing Director of Wolfgang Digital, Brendan Almack.
YouTube's global revenue (through its parent firm Alphabet) reached approximately $29 billion in 2021, up roughly 46% from 2020. With more traditional TV advertisers, direct response advertisements, and brand advertising, YouTube is on pace with Netflix.
"The scope for growth or headroom for growth is absolutely huge. It's still super cheap for CPVs, and the big brands aren't there or not doing it really well. This means everyone can eke out a competitive advantage by having a smart YouTube advertising strategy," says Almack.
Conversational Marketing
With all that talk about chatbots, the reality of modern marketing becomes clear: it's more conversational than ever. People want it that way; therefore, brands are catering to their desires. When customers have a question, 82% want a "quick" answer.
Conversational marketing lets marketers and customers make a personal and immediate connection. And unlike traditional marketing methods, this type of marketing is now available across numerous channels. It allows brands to reach customers on their own terms: on the devices, platforms, and schedules that are most convenient for them.
David Cancel, founder, and CEO of Drift, says, "Today's buyers expect to find what they're looking for now, not later. [And] in the way people prefer to communicate."
In fact, according to Drift, 41.3 percent of consumers make purchases using conversational marketing tools.
Companies utilize a variety of strategies to carry out a conversational marketing plan, including:
Chatbots
Personalized videos
Personalized emails
Virtual selling assistants
ThoughtSpot is an example of a firm that benefited from conversational marketing. After implementing it, the company observed 10X more sales conversations, 70% more marketing qualified leads, and 64% more appointments scheduled.
Chatbots Will Dominate Customer Service
Artificial intelligence (AI) software called chatbots act as virtual "concierges" by talking to people and helping them complete their tasks. Chatbots interact with people naturally, mainly through text chats, but verbal interactions are possible too. As the system accumulates more data, the AI becomes better at predicting customer behavior, making it possible to provide a continually-improving service.
By the end of 2018 and the beginning of 2019, chatbots had carved out a regular role in Facebook Messenger for different tasks by the tens of thousands. Advanced software can easily handle anything from providing weather forecasts to automating some basic services. Bots allow users to interact with companies in a way that doesn't require humans to be present.
Many companies have stated that they intend to begin adopting chatbots. When you consider the benefits, it's easy to see why:
Service is available around the clock.
Customer inquiries are responded to immediately.
There are no breaks, vacations, or overtime compensation required.
When connecting with a brand, consumers prefer to message an online chatbot rather than call customer service centers, according to ConversioBot's research from January 2020. As a result, with businesses and customers eager for more interaction with chatbots, this will undoubtedly be one of the most rapidly rising digital marketing trends.
Short, DIY videos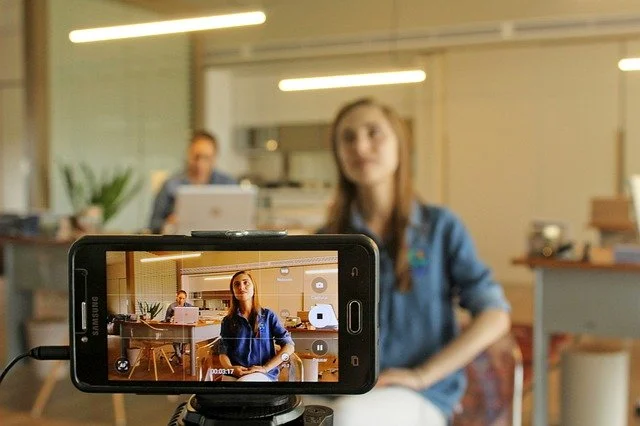 TikTok has altered social media's landscape away from status updates and curated photo grids and toward brief video posts. Other sites quickly followed suit, with Instagram releasing its Reels feature and Youtube adopting the 'shorts' format.
Short films emphasize our fast-paced consumption of content and the necessity for basic and succinct messages or exciting content that invites us to participate—whether it's learning a new dance, joining a challenge, or taking part in surveys and polls.
The great thing about these short videos is that anyone can make one on their phone, even if it isn't perfect. Not only that, but these brief, engaging videos' material is genuine. They show behind-the-scenes, DIY, real stories and have a less polished look, precisely what younger customers want.
Voice Interaction Continues Upward
Thanks to Siri, Google, Alexa, and a slew of other 'smart' devices, verbal interaction with devices is rising. The real takeaway for us is that individuals prefer to talk and that this is their preferred mode of communication. Machines are now catching up to how people want to search, shop, and discover new things.
This, however, poses some intriguing complications. For example, conducting a voice search differs significantly from typing a query, particularly in terms of the results. When a person performs a text-based search, the results are displayed one page at a time on the screen. When someone asks a device to conduct a search, and the gadget responds orally, the device may only provide a few options at most, and typically only one option.
Adopting a voice search strategy is about more than simply being relevant; it's about establishing a unique and optimized customer experience that will create relationships and increase brand loyalty.
Bonus Trend: Embrace Alternative Payments
Alternative payment methods, such as mobile wallets, are becoming more common, particularly among smaller businesses, while many larger retailers lag behind. When a consumer is accustomed to paying with their mobile wallet and wants to check out at a big-box retailer, they may not be able to do so. This can result in a poor customer experience. Retailers must link their point-of-sale (POS) terminals with the rest of their digital technology stack to enable the touchless and mobile payments that customers want and that many smaller competitors already provide.
Wrap Up
In conclusion, the digital marketing trends highlighted in this article are important ones to keep in mind as you plan your marketing strategy for the year. Keep an eye on these trends and adapt your plans as needed to stay ahead of the competition. And remember, always keep your customers in mind when creating your plans – after all, it's all about delivering what they want and need.