Hook Point Decoded: How to Truly Connect in Today's World
If you're looking for a book that can help you stand out in today's fast-paced world, then Hook Point: How to Stand Out in a 3-Second World might be just what you need. I recently had the chance to dive into this book and wanted to share my thoughts with you.
Being someone who constantly seeks knowledge and wants to improve my communication skills, I was intrigued by the concept of standing out in a fast-paced world.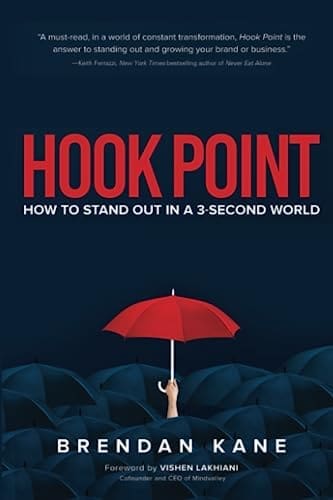 Pros and Cons
What I Liked
Practical lessons for business development: This book offers a lot of practical advice and lessons that can help take your business to the next level, especially for marketers and content creators.
Beneficial for entrepreneurs: The book provides valuable insights and ideas that can greatly benefit entrepreneurs. It's filled with helpful tips that I've personally found useful.
Improved understanding of marketing: After reading this book, I feel like I better understand marketing and how to communicate with clients effectively. The concepts are explained in an engaging and entertaining manner.
Emphasizes the value of content: One of the standout points of this book is its focus on the value of content. It emphasizes the importance of building connections with your audience rather than simply viewing them as metrics or customers.
Engaging and easy-to-read: Hook Point is not boring at all, unlike many non-fiction or self-help books. It's a fun and enjoyable read that keeps you engaged from start to finish.
What Can Be Improved
Excessive self-promotion: Some readers might find the author's self-promotion and constant name-dropping off-putting. While the book offers valuable insights, the excessive promotion can sometimes overshadow the content.
More focus on information: Although the book contains great examples and information, some readers may feel that there is too much focus on the author himself and his consulting business. It would be beneficial to have more in-depth information without the constant reminders of the author's accomplishments.
Quick Verdict
Overall, Hook Point: How to Stand Out in a 3-Second World is a valuable resource for marketers, content creators, and entrepreneurs looking to enhance their businesses. It provides practical lessons, improves your understanding of marketing, and emphasizes the value of content. While there is some excessive self-promotion throughout the book, the insights and ideas it offers are worth the read. If you're ready to take your business to the next level and stand out in a fast-paced world, this book is definitely worth considering.
If you want more information or to purchase the book, you can check it out on Amazon.
Specifications
Publication date: March 9, 2022
Print length: 304 pages
Best Sellers Rank: See Top 100 in Books
Dimensions: 6 x 0.69 x 9 inches
Item Weight: 15.8 ounces
ISBN-13: 979-8425205179
Paperback: 304 pages
Language: English
Publisher: Independently published (March 9, 2022)
ASIN: B09VFS57QL
User-Guide
The book did not come with a separate user guide or documentation. However, the content itself serves as a comprehensive guide to understanding and implementing the strategies presented by the author. The chapters are well-structured, and the author provides clear examples and actionable steps throughout the book. The absence of a separate user guide did not hinder my understanding and utilization of the valuable insights shared by the author.
You can check out the product link if you'd like to learn more about the product.
What I Found
Captivate Your Audience
Hook Point: How to Stand Out in a 3-Second World offers valuable insights on capturing and captivating your audience's attention. The book provides techniques and strategies to create compelling content that hooks your audience within the first 3 seconds of their attention span. It emphasizes the importance of making a powerful first impression to stand out in today's fast-paced world.
The book explores the psychology behind capturing attention through real-life examples and case studies and provides practical tips on crafting attention-grabbing headlines, visuals, and storytelling elements. It delves into the science of how the brain processes information and offers actionable strategies to ensure your message cuts through the noise and resonates with your audience.
Pro-tip: Experiment with different hooks and monitor the audience's response to identify the most effective strategies for capturing their attention. Continuously refine your approach based on the feedback and engagement metrics for optimal results.
Stand Out with Unique Selling Points
In a crowded marketplace, it is crucial to differentiate yourself from competitors. Hook Point provides guidance on identifying and leveraging your unique selling points (USPs) to stand out. It emphasizes the importance of understanding your target audience's needs and desires and aligning your USPs with those preferences.
By highlighting your distinctive qualities, you can engage and connect with your audience on a deeper level. The book provides actionable tips and exercises to help you uncover your USPs and effectively communicate them to your target market. It also suggests leveraging social proof and testimonials to reinforce your USPs and build credibility.
Create Compelling Visuals
Hook Point recognizes the power of visuals in capturing attention and conveying messages effectively. The book explores the science of visual perception, understanding how the brain processes and responds to visual stimuli. It provides practical advice on creating compelling visuals instantly, grabbing attention, and communicating your message efficiently.
With insights from graphic design and marketing experts, Hook Point offers strategies for selecting impactful images, using color psychology, and designing attention-grabbing layouts. It highlights the importance of visual consistency across various platforms to reinforce brand identity and enhance message retention.
Whether you're creating social media posts, website banners, or presentations, leveraging the principles outlined in Hook Point will help you create visuals that leave a lasting impact on your audience.
Harness Emotional Storytelling
Emotional storytelling is a powerful tool for capturing attention and engaging your audience on a deeper level. Hook Point delves into the art of storytelling and provides a framework for crafting narratives that evoke emotions and resonate with your target audience.
The book offers practical advice on identifying compelling story arcs, incorporating relatable characters, and leveraging emotional triggers to create impactful narratives. It also emphasizes the importance of authenticity and vulnerability in establishing emotional connections with your audience.
Pro-tip: Use storytelling not only in your marketing efforts but also in your everyday communication. Whether it's in meetings, presentations, or conversations with clients, incorporating storytelling techniques can help you effectively communicate your ideas and make a memorable impression.
Leverage the Power of Neuromarketing
Hook Point explores the fascinating field of neuromarketing and how understanding the brain's cognitive processes can help you optimize your marketing strategies. The book uncovers the science behind decision-making and reveals techniques to influence and persuade your audience's subconscious mind.
By applying neuromarketing principles, you can tap into the deep-rooted biases and cognitive shortcuts that drive consumer behavior. Hook Point offers insights into leveraging emotions, social influence, and cognitive biases to create persuasive marketing messages that drive action.
Understanding the science behind consumer decision-making allows you to optimize your marketing campaigns and create content that speaks directly to your audience's subconscious desires and motivations.
My Review and Score
Our Score: 87.0
As a marketer and content creator, I highly recommend Hook Point: How to Stand Out in a 3-Second World. This book provides practical lessons that have helped me take my business to the next level. The strategies and insights shared by the author are invaluable, and I consider this a must-read for all marketers. The book has given me a better understanding of marketing and how to capture potential clients' attention effectively. Unlike many other non-fiction or self-help books, I found it to be an enjoyable read.
Kane, the author, has done an excellent job explaining the importance of developing a strong hook point and how it can significantly impact your business. The book is filled with great concepts that are applicable to content planning and creation. It has helped me think outside the box and come up with innovative ideas for my content. However, it should be noted that there is some self-promotion for the author's business throughout the book, which can be distracting at times.
The book emphasizes the value of content and highlights the importance of understanding your audience as individuals rather than just numbers and metrics. This perspective has been instrumental in shaping my approach to marketing. Additionally, the book provides practical strategies and frameworks that are applicable to businesses of all sizes. Whether you're a seasoned entrepreneur or just starting out, Hook Point offers helpful advice that can contribute to the growth and success of your business.
If you're looking to stand out in today's fast-paced world, I highly recommend checking out Hook Point: How to Stand Out in a 3-Second World. The book has personally helped me improve my marketing strategies and has given me a better understanding of how to connect with my target audience. Don't miss out on the opportunity to learn from Brandon's expertise by purchasing the book now.